Names from left to right:
Mr Ehab El Gammel (Director – Al-Ameen College), Mr Emad Mishal (Director – Al-Ameen College), Senator Matt O'Sullivan, Mr David Goode (Mayor of Gosnells), Mr Sevad Pasic ((Director – Al-Ameen College), Dr Popie Hossain Rhaman (Principal – Al-Ameen College).
Langford Islamic College has adopted a new name in preparation for opening its second campus in Perth's northern suburbs: Al-Ameen College
Meaning 'The Trustworthy', the name reflects the College's holistic approach to education, which balances faith and values-based teaching, citizenship and community service, and academic excellence.
New state-of-the-art science facilities, collaborative language classrooms and a computer lab bolster the College's position as a leader in STEAM (Science, Technology, Engineering, the Arts and Maths) education, following the recent opening of its Learning Centre designed by Architects Taylor Robinson Chaney Broderick.
Joined by Senator Matt O'Sullivan, David Goode, Mayor of the City of Gosnells, and AISWA Executive Director Valerie Gould, the Learning Centre's opening was celebrated by students, teachers and local community representatives.
The College's Governing Body Chair, Mr David Taylor said "the opening of the Learning Centre and the adoption of our new name builds on our heritage and signals a new stage of maturity for Al-Ameen College.
"Our college and its place in the local community have thrived, growing from just 16 students and 10 teachers in 2004, to now educating more than 1,100 students each year.
"We look forward to welcoming more students with the addition of our second campus to share Al-Ameen College's values of active citizenship and faith-based education," he said.
President of the Australian Federation of Islamic Councils (AFIC) and Director of Al-Ameen College, Dr Rateb Jneid said that he is very proud of the achievements of Langford Islamic College. "Langford has grown into one of the most successful schools in Australia and has gained the trust of the entire community. Langford truly deserves the title "Trustworthy", Al-Ameen. I congratulate Al-Ameen College and pray for its continued success".
Al-Ameen College's Mirrabooka campus is expected to open in 2023.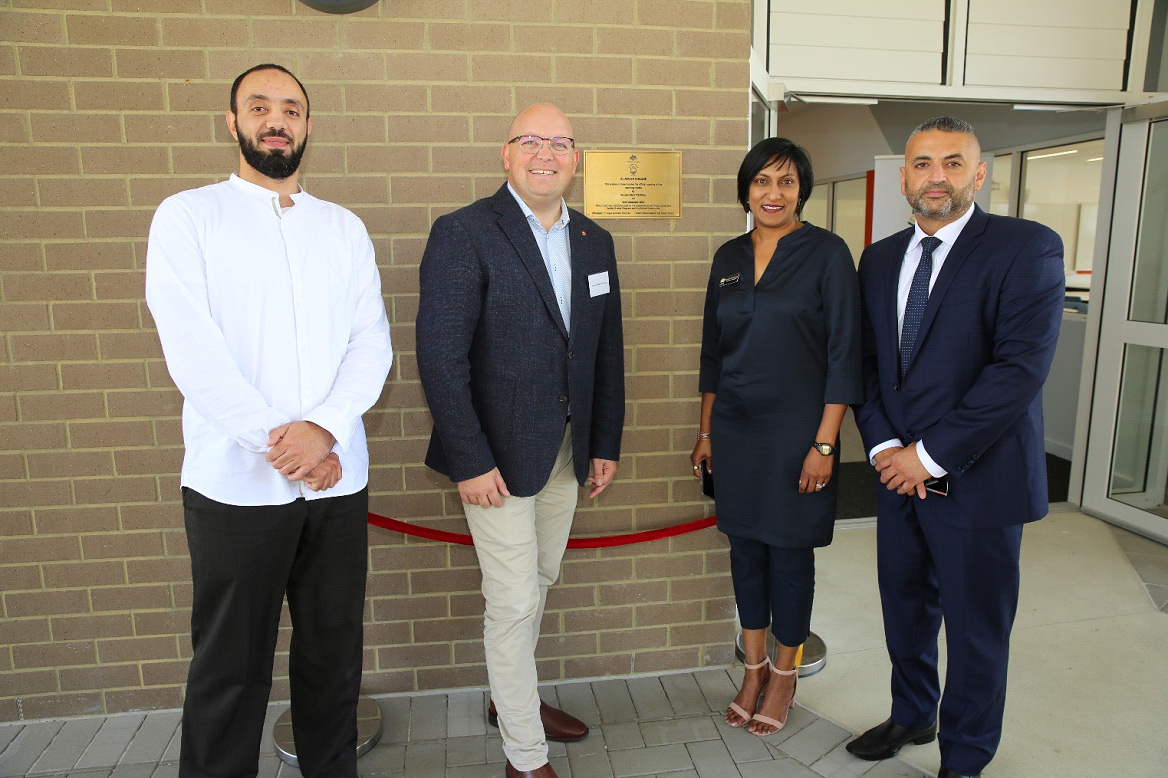 Names from left to right:
Mr Ehab El Gammel (Director – Al-Ameen College), Senator Matt O'Sullivan, Ms Kumesh Haripersad (Business Manager – Al-Ameen College), Mr Emad Mishal (Director – Al-Ameen College)