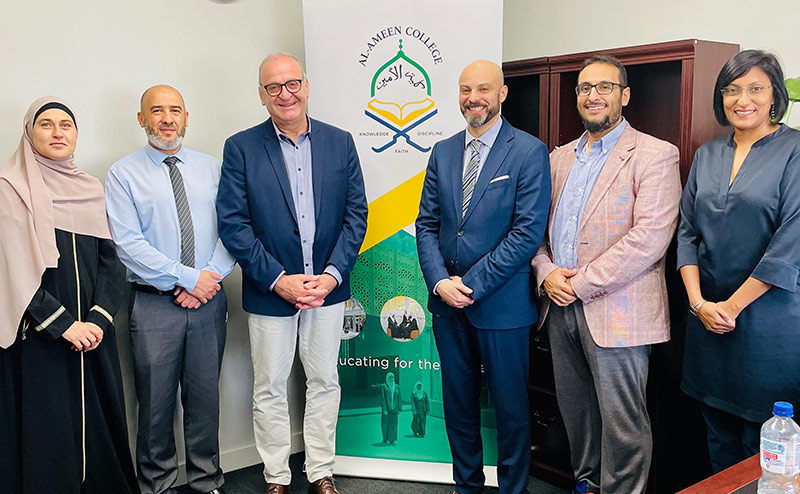 From left to right: Ms Manal Jneid, Dr Rateb Jneid, Ambassador Izzat Salah Abdulhadi, Mr Mohamed Elbotaty, Sheikh Yahya Ibrahim, Ms Kumesh Haripersad
---
Al-Ameen College was privileged to welcome His Excellency Ambassador Izzat Salah Abdulhadi, Head of the General Delegation of Palestine to Australia, New Zealand and the Pacific at the College. Dr Rateb Jneid, Director of Al-Ameen College and President of the Australian Federation of Islamic Councils, hosted His Excellency in Perth where they met with various elders and members of the Palestinian Community.
During his visit to Al-Ameen College, Ambassador Abdulhadi met with members of the Leadership Team and enjoyed a tour of the campus. Meeting students was the highlight of the visit, with Ambassador Adhulhadi mingling with students and responding to various questions about Palestine.
The Principal of Al-Ameen College, Mr Mohamed Elbotaty said that the College was honoured to host His Excellency at Al-Ameen College. "His visit provided the College with an opportunity to demonstrate how we are directly contributing to the Muslim Community in Perth, developing young Muslims who will positively impact the Australian community, as well as engaging with Global Issues".
Dr Jneid stated that he was very pleased to host His Excellency in Perth. "We have an outstanding community in Perth and His Excellency's visit to see our community's achievements was appreciated by both young and old. His Excellency's broad knowledge of the Israeli-Palestinian conflict was most helpful in answering our questions and leading the discussion on peaceful resolutions."
"I am very impressed with the professional College Board, the Leadership Team and the amazing and inspiring students. The Australian Muslim community in Perth is to be commended for its excellent contribution to Australian society", said Ambassador Abdulhadi.
Ambassador Abdulhadi enjoyed morning tea with members of the College Board and the Leadership Team.