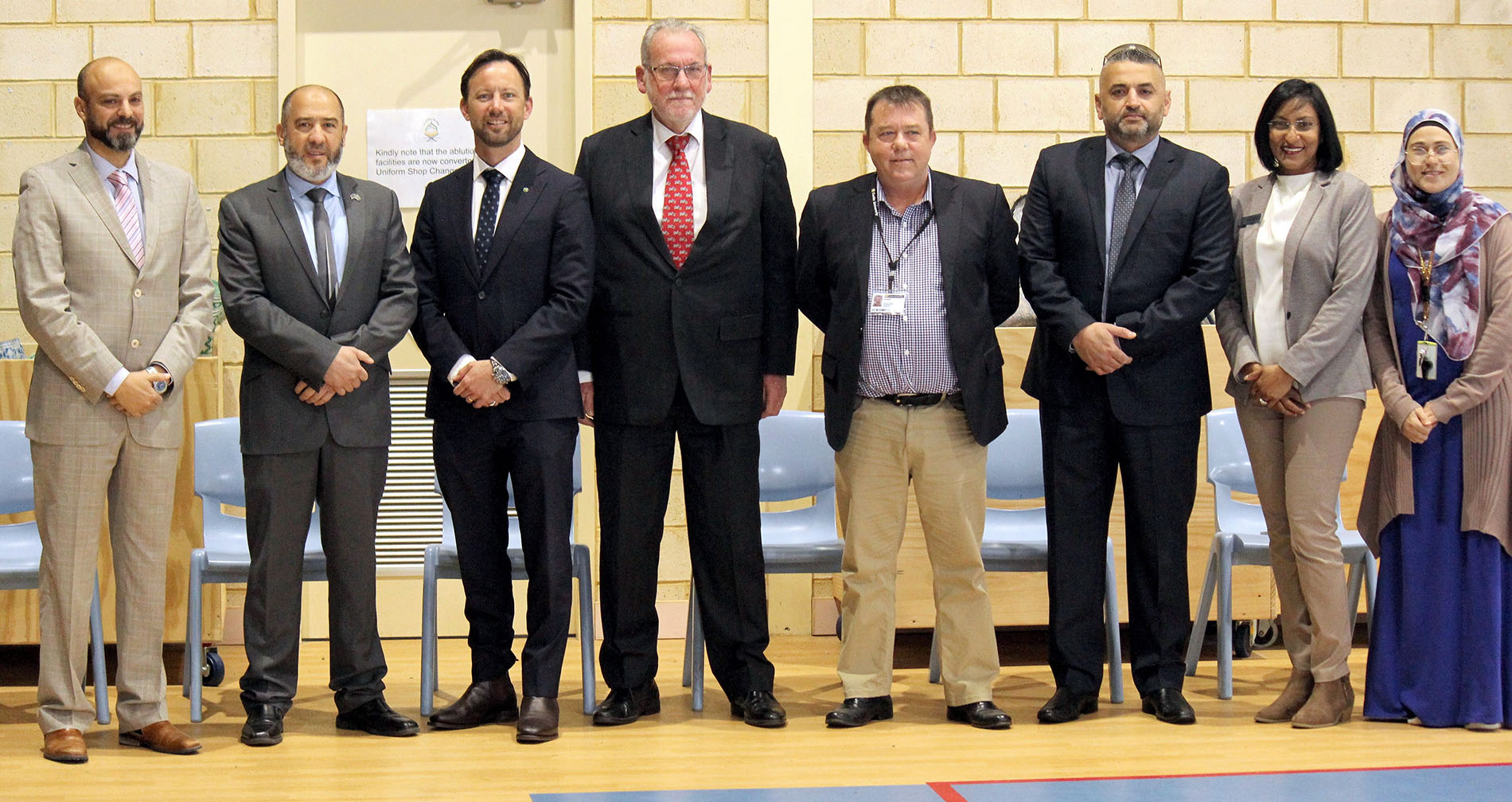 From left to right: Mohamed Elbotaty (Principal), Dr Rateb Jneid (Director), Mr Vince Connelly MP, Mr David Taylor (Board Chair), Dr Russell Kingshott (Senior Lecturer), Mr Emad Mishal (Director), Ms Kumesh Haripersad (Business Manager), Ms Manal Jneid (Pastoral Care)

---
Mr David Taylor, Chair of Al-Ameen College, Dr Rateb Jneid, Director of Al-Ameen College and President of the Australian Federation of Islamic Councils, and the College Leadership Team hosted Mr Vince Connelly MP, Federal Member for Stirling, and Dr Russell Kingshott, senior lecturer at Curtin University, along with other distinguished guests to welcome students' back to the College for Term 4. Mr Connelly and other distinguished guests attended the morning assembly, enjoyed a tour of the campus, and mingled with teachers and students during morning class.
Mr Connelly addressed the assembly and said that it was a pleasure to visit the College. "It is indeed a pleasure to witness how communities grow over time including schools like Al-Ameen College. My role to is support such communities locally, but my role also expands to Canberra where we consider new laws that need to be put in place, or changed, to improve the lives of people throughout Australia. It is a big responsibility but is very rewarding because we have the opportunity to contribute to the local community, as well to good governance of the country". 
Mr Taylor and Dr Jneid welcomed Mr Connelly to the College and thanked him for accepting our invitation. "We are very pleased to welcome Mr Connelly to the College today and thank him for taking the time out of his busy schedule to enlighten students on the important role politicians play in the governance of our country." Dr Jneid also thanked the Chair Mr Taylor and Dr Kingshott for joining us this morning.
"It is indeed always a pleasure to visit the College and witness the improvements the College has made. It is heart-warming to see you, the students and to encourage you to persevere in your studies to become future leaders of the Muslim community insha'Allah", said Dr Jneid.
Mr Connelly, Dr Kingshott and guests toured the new Learning Centre and enjoyed morning tea with members of the College Board and the Leadership Team.